Few months ago I was hired by Microsoft Latin America New Markets, which covers all Central America, Caribbean and some countries in South America, to create a Windows 8 and Windows Phone 8 app targeting their certified partners.
I had the opportunity to design the entire experience, from the back office (for data entry) to the end user interface. The goal was to deliver up to date product information, calendar of events, latest news and updates on current campaigns, promotions and rebates.
Version one mockup:
For version one, had a very simple color palette (the final color was a dark violet color, not the "pinkish" shown below) and a main focus in the product area.
We tested this version for a month with real users and the usability tests and feedback revealed partners were much more interested in the "business" partner of the app, meaning the information about promotions and campaigns.
We discovered also that having all promotions, campaigns and rebates in a single view (middle of the image above) required scrolling, which some of the users did not noticed as expected.
The final version:
With the feedback and the analysis, the entire interface was re-designed to address all issues. Here's the final interface for Windows 8:

The new dashboard brings new features, like a score of points for each activity done in the app (read an article gives partners points, for example), but also uses color to highlight different sections.
I opted to use the four main colors from the Microsoft logo as area separators. For example, for partner related information, I used the green, which is the official color of Microsoft Partner Program.
Each Campaign, Promotion and Rebates are inside their own categories and a visible bar shows when the activity starts and ends, in a visual aid.
When users click a specific campaign, they receive detailed info about the selected topic: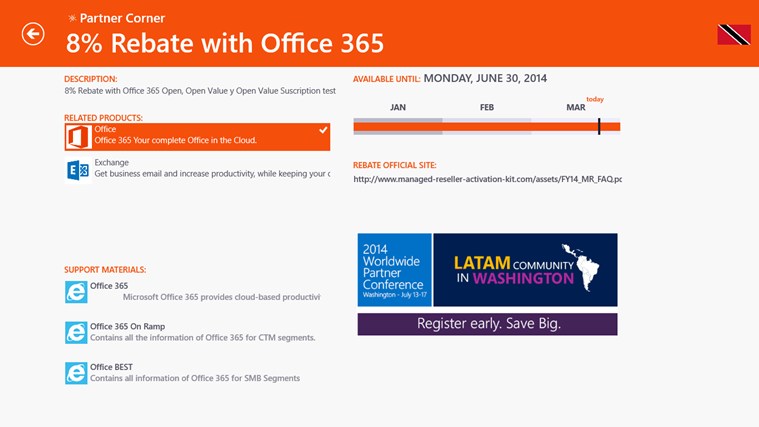 The Windows Phone 8 app follows the same design.
Besides being more attractive, the new apps have much better reviews and downloads, proving that monitoring and listening end users is an important part of developing an application.
I really enjoyed the opportunity and I am looking forward to the next ones!